National Lobster Hatchery plans expansion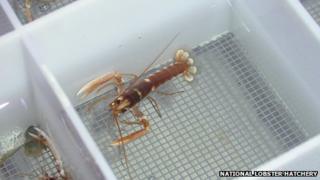 A hatchery in Cornwall, that releases thousands of lobsters into the sea each year, has announced expansion plans.
The National Lobster Hatchery in Padstow, originally opened in 2000, now wants to expand its visitor centre to fund more conservation work.
The charity said it had applied to the coastal communities fund for a grant to develop the visitor centre.
As part of its plans the hatchery wants to move its lobster production to another site in the Padstow estuary.
Dominic Boothroyd, the general manager at the hatchery, said: "We'd really like to improve our public education work, expand the visitor centre, and move the bulk of our production off site to another site in the [Padstow] estuary.
"In the ideal world we'd like to do this in the next two years.
"It will allow us to employ more people, take on more volunteers and students. It will also provide a lot more opportunity for people to engage with us."
The National Lobster Hatchery describes itself as "a pioneering marine conservation, research and education charity".
The hatchery was set up to conserve vulnerable lobster populations, preserve marine biodiversity and help safeguard the local fishing industry.
Lobsters are subject to considerable fishing pressure and vulnerable to catastrophic stock collapse, staff said.
In the UK, the species is one of the the most valuable fish caught, as well as being part of a major export industry worth £30m annually.
The hatchery operates a stock enhancement programme, which involves raising young lobsters through their most vulnerable stages, then releasing them back into the wild when they have a better chance of natural survival.
Since opening in 2000 the charity has released more than 100,000 lobsters into the sea.