Costs mount for stricken cargo ship MV Sea Breeze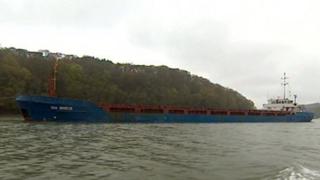 A ship which started sinking off the coast of Cornwall is costing UK taxpayers hundreds of pounds a day in mooring fees.
The six crew of the MV Sea Breeze were rescued when it began taking in water near the Lizard on 9 March.
But the future of the 87m (285ft) ship is uncertain and the Department for Transport is paying more than £200 a day to moor it in the River Fal.
The ship had been taking limestone from Liverpool to Shoreham, West Sussex.
'Complex' salvage
The ship was towed to St Austell Bay for repairs, and then the Port of Fowey was directed by the UK Government's marine casualty authority to take her in before she was moved to the Fal, a deep water area for mooring large ships.
Truro harbourmaster Capt Mark Killingback said: "At the moment she's being looked after by the Department for Transport and the Maritime and Coastguard Agency (MCA).
"It's a matter for maritime lawyers to resolve any claims against the vessel."
The ship is registered in Barbados, had a mainly Russian crew and is operated by Ukraine-based company, KDM Shipping, which was unavailable for comment.
Salvage company Keynvor MorLift claims it is owed hundreds of thousands of pounds in fees.
Spokesman Diccon Rogers said: "Salvage is often complex. There are several interests and legal parties on an international basis so getting paid can be interesting."
The MCA said: "Negotiations about the future of the vessel are ongoing between the MCA, the salvors, Port of Truro, the operator and their insurers.
"The vessel is securely moored in the River Fal, at Truro, and is being monitored."