Model Linah Keza's murder 'was preventable'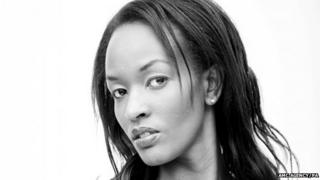 The ex-boyfriend of model and former Miss Africa contestant Linah Keza has been jailed for a minimum of 21 years for murdering her at her flat in Leyton, east London. She was the victim of domestic abuse and her family believe the police could have prevented her death.
Linah Keza wanted a fresh start and to be free from fear, threats and control. But her ex-boyfriend David Gikawa, motivated by jealousy, stabbed her to death in her home in front of their two-year-old daughter.
Both the police and social services had previously been contacted by the 29-year-old but the Old Bailey heard she was let down by the "systems in place".
Her family are now considering legal action against the police and say they want to stop this happening again.
Ms Keza met Ugandan-born Gikawa at a traditional Rwandan dancing session in 2009, but their relationship quickly became troubled.
By 2013 she had had enough and told Gikawa their relationship was over and she was seeing someone else.
He responded by telling her he would rather kill her than see her go out with another man.
The model, who was registered with the AMC Agency, had no reason to doubt him. He had attacked her in the past and the court heard that, during one incident, he put a knife inside her mouth.
A few days before her death Ms Keza sought a non-molestation order from the court and two days before she was killed she called the police three times, telling officers Gikawa was harassing her and repeatedly driving past her flat.
"Linah had a friend, James, there and she was called and told to leave [the flat] because David is very upset," her brother Ivan Kigenza said.
"Gikawa was throwing stones and they called the police and the police came up and escorted James downstairs and found James' car was slashed.
"The police just told Linah to try and talk to David and to sort their problems. Linah was saying 'I don't want him here, I don't want him next to me, I am really so scared of him'."
On 31 July 2013, Ms Keza was found dead in her home by neighbours who heard her screams. She had been stabbed in the chest.
Her family, who are unhappy with how the police responded to Ms Keza's calls, are now taking legal advice about their case.
"I would ask the police really to listen so hard to women," said Mr Kigenza.
"This could have been prevented. On the 29th when they came. We know the knife was used before, when David put the knife in her mouth, it was used on James' car, the same knife was used, so something should have been done to take this knife away.
"He was not only a danger to Linah, he was a danger to anybody."
"In a week, two women are being killed through domestic violence and actually in some cases they do call the police," he added.
"So our cry, to the government as well, is to take really robust action against this, so the next generation, our children, your children, your grandchildren, should never face this again."
Born in Uganda, Ms Keza moved to Rwanda as a teenager before moving to the UK more than 10 years ago.
She was described by friends as inseparable from her daughter, compassionate and ambitious.
Despite the miles between them, Ms Keza kept in close contact with her family in Africa and after months of rows with Gikawa admitted to her sister, Susan Asiimwe, she was fearful for her life.
The last time the sisters saw each other was when Ms Keza visited her family in 2012.
"She knew who David was by then... she had found out so many cruel things he had done," said Ms Asiimwe, who gave evidence during the trial.
"She said 'I don't know how I can get out of this relationship'... she was sacred and she said 'my life is in danger'. She told me 'Susan I am dead meat. I don't know how I am going to survive'."
Ms Asiimwe tried to help her sister get away from Gikawa but said: "It was impossible, it came so fast. He stole her life."
Following Ms Keza's death, the Metropolitan Police referred the case to the police watchdog, the Independent Police Complaints Commission (IPCC).
The IPCC said an investigation into contact between police and Ms Keza before she died was "progressing well".
It has served misconduct notices on four Metropolitan Police Service officers, which advises them their conduct is being investigated.
Figures from the watchdog show domestic-related incidents account for the highest proportion of deaths categorised under "other deaths following police contact".
In 2012/13 nine people died in domestic-related incidents that were subject to IPCC investigations.
Domestic violence charity Refuge has called for a public inquiry, citing a HM Inspector of Constabulary investigation which criticised the police response to domestic violence.
"HMIC has come to a stark conclusion: the police response to domestic violence is 'not good enough'," said Sandra Horley, Refuge chief executive.
"One of the reasons why so many women and children are killed is, quite simply, because the people who have a legal duty to protect them have failed.
"The evidence paints a murky picture of a system in chaos - a system that does not protect the lives of women and children - a system that must be fixed."
Patrice Shema, from the Rwandan Community in London, wants women to learn from what had happened to Ms Keza.
"This could have been prevented. It is so sad," he said.
"Single mothers and women should be able to speak out, but they don't want to talk, we know this is happening, and it must stop.
"Whenever we had a one-to-one meeting on projects for the community, I could see Linah wasn't happy, but the man who killed her was a brutal person, full of insecurity and he would do anything to own Linah as a possession."
Mr Kigenza, who said he was "proud" to call Ms Keza his sister, added: "We hope Gikawa will stay in prison for the rest of his life, will never see outside again, so no other woman, no other child, can ever be hurt by him again."