Fisherman's Friends make triumphant return to national stage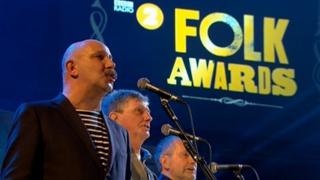 Cornish singing group the Fisherman's Friends have performed live on a national stage for the first time since the death of one of their members.
The group from Port Isaac performed at the BBC Radio 2 Folk Awards at the Royal Albert Hall in London.
Trevor Grills died after he was critically injured by a falling metal door at a venue in Surrey last year.
The singers received a standing ovation from the audience after performing a medley of shanty songs.
Their second album, One And All, was dedicated to Mr Grills and tour manager Paul McMullen, who also died in the accident at G Live in Guildford on 9 February 2013.
The Fisherman's Friends' performance at the 2011 Folk Awards, when they won the Good Tradition Award, was a highlight of that year's event, organisers said.
Its members, who have been friends since school and have been performing together in and around Port Isaac for several years.
The group was discovered by BBC Radio 2 presenter Johnnie Walker.
They were later signed to a major record label and a feature film inspired by their story is currently in production.
The 2014 BBC Folks Awards, which were presented by Mark Radcliffe also featured Bellowhead and Suzanne Vega.