Stonework falls from storm-damaged Truro Cathedral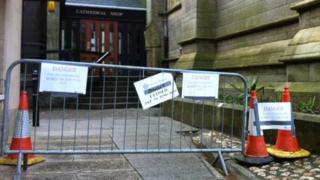 Part of a cathedral's grounds have been cordoned off because of falling stonework.
Truro Cathedral was damaged in the recent storms with a section cordoned off as a precaution, said Ellen Mckessock, director of operations.
Bell ringing has been suspended "for the next few weeks" until repairs have been made, a spokesman said.
Ms Mckessock said she hoped the insurance would cover the cost of most of the repairs.
She said: "The storm managed to dislodge one of the mullions - a stone column in the centre of an arch - at the front of the cathedral and it fell on to the corner of the shop and pavement.
"There's no question of us closing the cathedral because it's a very small area that has been affected."
The damage will examined within the next two weeks, Ms Mckessock said.