Camborne's Drop in and Share Centre to close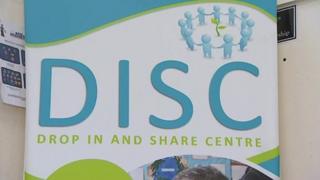 A charity which helps vulnerable people in Cornwall will close because of a lack of funding, it has announced.
Annually, about 9,000 people attend the 'Drop in and Share Centre', in Camborne, for help and support.
For the past six years, it has survived on grants from charitable foundations, but trustees said a lack of funding meant it would close in March.
Centre manager, Mark Cooper, said the closure would "affect a lot of people in a massive way".
'Financial cliff'
The centre employs five staff and costs about £40,000 a year to run, which has come from about 12 charitable foundations.
It enables people to access support and services which helps them to rehabilitate back into the community.
Service user Nicky said: "I came out of prison and wanted to better myself... It's basically a safe place for vulnerable people to come and get signposted to different organisations."
Mr Cooper said: "This is all about giving people second chances.
"I come from a very chequered background. I've been through the care system, used drugs, been homeless, been to prison, so I can relate to the people who walk through the doors."
Chair of the trustees, the Reverend Mike Firbank from Camborne Parish Church, said: "We've tried really hard to find new sources of funding, but the funding out there has been slashed so many times that there is none left for this type of work.
"We've come to a financial cliff."
The breakfast club, which provides a discounted meal, will remain open but the help and support services will stop at the end of March.