Padstow speedboat deaths: Fast turn led to tragedy, report says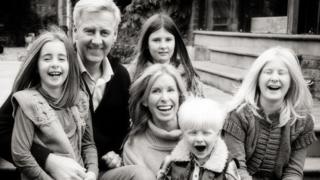 A TV executive and his daughter died after he tried to execute a fast turn in their speedboat, investigators have said.
All six members of the Milligan family, from London, were thrown out of the boat in Cornwall last May.
Nick Milligan, 51, and his daughter Emily, eight, died as the boat circled out of control, the Marine Accident Investigation Branch (MAIB) said.
The MAIB said an emergency "kill cord" to cut the engine had not been worn.
Mr Milligan's wife Victoria, 39, and son Kit, four, were severely injured in the accident.
The report said that Mrs Milligan had taken the helm of the speedboat Milly on the Camel Estuary near Padstow when BSkyB sales boss Mr Milligan said she should make a turn.
'Violently' rolled
"Mrs Milligan was reluctant to do so as she did not consider there was sufficient space between the boat and the beach," said the report.
"However, due to encouragement from the children and Mr Milligan she began a slow wide turn.
"Mr Milligan then reached across, in front of his wife, took the helm in his right hand and the throttle in his left, and then increased the engine throttle setting to full as he turned the helm to starboard.
"The boat immediately accelerated and heeled into the turn and then suddenly, and violently, rolled back to port and ejected all its occupants out over the port side and into the water.
"The boat then continued to circle under full power.
"The family were on the surface of the water, supported by their lifejackets and buoyancy aids, and the boat circled back towards them, striking several of them."
The report said Mr Milligan's actions appeared out of character, adding: "It cannot be established whether the wine he had consumed about one-and-a-half hours earlier adversely affected his judgment or fine motor skills when he reached across and took the controls, but his alcohol levels were well below the drink-drive limit for UK roads."
MAIB chief inspector Steve Clinch said a kill cord attached to the person at the wheel was an "essential item of safety equipment".
"I most strongly urge all powerboat drivers to ensure one is fitted and correctly worn at all times when under way, and to regularly check that it is functioning correctly," he said.
He called it a "tragic accident" and hoped lessons would be learned.
'Media scrutiny'
"Avoiding an accident by knowing your boat's and your own capabilities and limitations is essential, as is ensuring that all on board are safely and securely seated whenever manoeuvring or travelling at speed," he said.
Recommendations have been made to the Royal Yachting Association (RYA) to include advice on the potential hazards of high power operations in its tuition and for the boat's manufacturer, APV Marine Limited, to reduce the design's steep angle of heel in tight turns.
Richard Falk, the training manager of the RYA, said: "If one good thing can possibly come from this tragedy it's that this issue of kill cords has received a great deal of media scrutiny.
"We would like to hope that has made more people aware of the hazards of operating a more powerful craft without a kill cord attached."
The family said in a statement: "We are still coming to terms with this tragic accident which has left us without Nick, a loving husband, father, son and brother, and Emily, whose life was only just beginning.
"We sincerely hope that awareness of this accident will mean that another family does not have to go through anything similar."