Skippers admit dolphin pod disturbance in Camel Estuary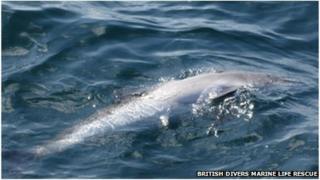 Two skippers have admitted disturbing a pod of dolphins in north Cornwall where a young animal was found dead.
At any one time, up to 25 private boats followed the pod of bottlenose dolphins in the Camel Estuary near Padstow in July.
The skippers agreed to complete a course teaching boat users how to view marine wildlife within the law, police said.
A spokesman said they "clearly acted out of ignorance of the law".
A police spokesman said they had seen video footage, photographs and witness statements that suggested a "high number of vessels encircled the pod" and remained within 59ft (18m) of them while other vessels "drove through the pod at speed".
PC Allerton-Baldwin, of Devon and Cornwall Police, said: "There is no evidence that anybody went out on that day with the intention of contributing to the death of a dolphin.
"It is perfectly safe and lawful to view marine wildlife by adopting a few simple measures such as taking up an initial position no less than 200 metres from the animals, maintaining course and speed and being one of no more than three boats present."
Stephen Marsh, from the British Divers Marine Life Rescue, said: "While we are pleased that the perpetrators of this sad incident have been dealt with, it could have been avoided if all the boaters in the area had stayed well away from the animals and observed them at a safe distance.
"Hopefully the result from the police operation will serve as a reminder to all that wildlife crime is taken seriously and also that disturbance of dolphins is not only illegal, but can have severe consequences."
The two skippers admitted reckless disturbance of the dolphins under the Wildlife and Countryside Act 1981.
The force said they were dealt with under the restorative justice scheme, which allows officers to warn or caution offenders who agree to undertake some form of restoration.
Their details have also been recorded by officers.