Derriford Hospital's 'flurry' of New Year's Day babies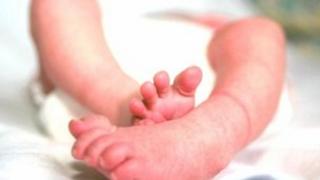 Midwives at the South West's biggest hospital have had a "very busy and exciting" start to the new year.
Derriford Hospital's first baby of 2014 - a little girl weighing 7lb 2oz (3.3kg) - was born at 01:30 GMT.
Orla Gannon and her mother Katie, from Peverell in Plymouth, are both doing well.
"It's been a busy start to the year - by 10am we'd delivered five babies, with three more on the way," a hospital spokeswoman told BBC News.
"There's been a flurry of babies - it's very exciting".
The second and third arrivals of the new year were a baby boy and girl, born at 06:00 and 06:30 respectively, the hospital added.