Public funds for Cornwall's Eden Project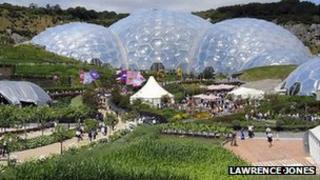 Hundreds of thousands of pounds of taxpayers' money has been used to fund the Eden Project attraction, council figures have shown.
About £1.3m has been spent on it by Cornwall Council in three-and-a-half years.
Some of the payments have been left off the authority's "transparency report" which identifies public spending.
Cornwall Council said a new management system could have caused the error.
'Incorrectly posted'
The Eden Project, near St Austell, Cornwall, is one of the UK's most popular attractions, but dozens of staff have been made redundant, with falling attendances and financial losses in recent years.
In a freedom of information request the council said it paid out £345,000 in direct funding, as well as contributing £815,108 via "third parties" and a further £194,833 for "everyday business".
It said: "Following an investigation it would seem that three payments [totalling £205,000] were incorrectly posted in the accounts which led to them not being picked up in the report that populates the transparency report.
"During this period the council was moving to a new financial management system, which may have caused this error for which we apologise.
"However, although the three payments were not included in the transparency report, they would have been open to public inspection during the statutory 20-day period after the close of each year's accounts."
'Not funding dependent'
An Eden Project spokesman said the attraction has generated more than £1bn to the wider Cornish economy.
He said: "It is correct that, since 2009, Eden has received £345,000 of grants directly from Cornwall Council to support the creation of new projects.
"We are grateful for this investment at a crucial time in our development but would like to make it clear that it would be fundamentally wrong to suggest that Eden is dependent on local authority funding.
"Since the project became active it has consistently generated more than 85% of its annual turnover from trading."
He added the remaining funds had come from "a mixture of sources" including charitable trusts, individual donations, government and lottery grants.