Newquay Airport £1 parking charge dropped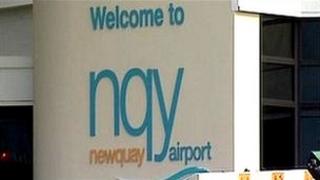 Free parking for a short period is to be reintroduced at Newquay Airport.
Vehicles could park for free for 15 minutes until a £1 charge was introduced in April. The charge was criticised for hitting drivers just picking up or dropping off passengers.
Airport owner Cornwall Council said that, while the charge had brought in about £26,000 in revenue, it had proved very unpopular.
Ten minutes of free parking was to be introduced from Monday, it said.
Lib Dem MP Stephen Gilbert previously said the charge was "absolutely bonkers".