Mexico level crossing future could go to a public inquiry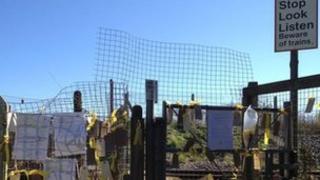 A public inquiry could be held into reopening a pedestrian level crossing where a woman died, a council says.
The Mexico crossing near Long Rock in Hayle, Cornwall, has not operated since 73-year-old Jan Nicholls was struck by a train in 2011.
Some local people want it reopened, saying another crossing 200m (656ft) down the track is too far away.
But Cornwall Council's cabinet agreed to keep it closed and has asked the government to confirm its decision.
Network Rail also wants the crossing closed for safety reasons.
Cornwall Council said: "While a number of members supported the views of the local community that the crossing should be reopened and that it was safe to do so, others expressed concerns about the potential risks.
"It is very likely the Secretary of State will hold a public inquiry before the final decision is made."