Thomas Orchard death: Police may face corporate manslaughter charge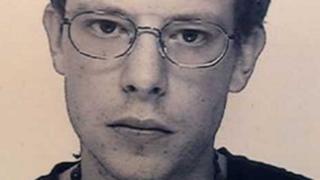 Devon and Cornwall Police may face a corporate manslaughter charge over the death of a man in custody, the Crown Prosecution Service (CPS) has said.
Prosecutors are also considering individual manslaughter charges relating to the death of Thomas Orchard in October 2012.
The 32-year-old died in hospital after being found slumped in a cell at Exeter's Heavitree police station.
An emergency restraint belt, known as a spit hood, had been used on him.
Devon and Cornwall Police said it would "continue to co-operate fully" with the inquiry by the Independent Police Complaints Commission (IPCC).
The actions of four police officers, two custody staff and an agency nurse are being investigated.
'Seriousness self-evident'
Mr Orchard, a caretaker at St Thomas Church in Exeter, was arrested on 3 October 2012 on suspicion of a public order offence and taken to the police station.
About an hour after he arrived, he was taken by ambulance to the Royal Devon and Exeter Hospital where he died seven days later.
The CPS said it was considering charges of corporate manslaughter against the force and manslaughter by unlawful act or by gross negligence and charges of perverting the course of justice and misconduct in a public office.
Mr Orchard's mother, Alison, said she was pleased that prosecutors were "taking the death seriously".
"The seriousness of these charges is self-evident," she said.
"If there have been offences committed, we hope they will be addressed fairly and transparently so that justice is done.
"If public confidence is ever to be restored in the police force, no police officer - or other individual who works for the police - should be above the law, however difficult their job."
She added that she felt the investigation had been "long and protracted", but hoped that was "indicative of thoroughness and rigour".
Assistant Chief Constable Andy Bickley said: "Following this incident the force has assisted the IPCC wherever possible in gathering information regarding their enquiry.
"Supporting our staff remains of critical importance and those staff concerned remain at work on restricted duties which do not impact or prejudice the investigation in any way.
"It's important to note that no-one has been criminally charged in relation to Mr Orchard's death and this investigation remains on going.
"The staff concerned have been moved to temporary roles which do not have direct contact with the public and are outside of custody.
"This follows Home Office guidance around the suspension of officers."