Phoenix Stroke Appeal reaches £500k target for Cornwall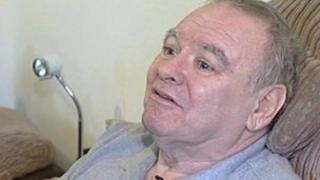 An appeal to raise money for stroke equipment and services has reached its target of £500,000.
Listeners to BBC Radio Cornwall have helped raise the money for the Phoenix Stroke Appeal.
The money is being used by the acute unit at the Royal Cornwall Hospital and the dedicated stroke units at Bodmin and Camborne Redruth Community Hospitals.
About 800 people have a stroke in Cornwall each year.
'Revolutionised stroke care'
Phoenix Stroke Appeal chairman, Rik Evans, said: "Before the appeal started, we were coping.
"If you had a stroke you were brought to the Royal Cornwall Hospital and you were helped to get back on your feet, back to normality.
"But that has been speeded up. Staff are finding it much easier and gratifying. People can get back to normality so much quicker and get help within their own homes, which is vitally important."
Mr Evans said the hospitals had new equipment to help with breathing, swallowing and speech - as well occupational therapy and physiotherapy.
The money has also been used to get patients out of hospital and back into their homes, where treatment continues, as quickly as possible.
Patient Lenny Thacker said: "You're in your own environment so you feel more comfortable and you feel as if they have more time for you."
Tamsin Stickland, a senior occupational therapist at Camborne Redruth Community Hospital, said the money had "totally revolutionised stroke care and its future".
'Big step forward'
Sir Roger Boyle, a former non-executive director of the Royal Cornwall Hospitals' Trust, said in England just under 100,000 people have a stroke each year.
Cornwall's, is a "higher rate than in other parts of the country", he added.
He said: "It reflects the higher age profile and Cornwall is a poor county.
"The NHS is strapped for cash... it still has to find a 5% saving year-on-year and these appeals really do help to bind the hospital into the local community."
He added the appeal was a "big step forward", but now communities could help those people who have had a stroke by "doing what they can" for them.
The appeal was launched in June 2011.