Bodmin and Wenford steam train line secures 35-year lease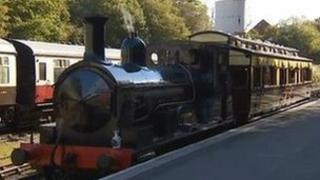 A steam railway line in Cornwall has secured a new 35-year lease, managers say.
The Bodmin and Wenford Railway Trust, which operates 6.5 miles (10.5km) of former branch line track, had been operating on five-year leases.
The new extended lease had been negotiated with Cornwall Council, trust chairman Keith Searle said.
The trust has six operational engines, running on the track more than 200 days a year.
'Increased business'
The branch line closed to passengers in January 1967 and was shut completely in November 1983.
A group of volunteers got together in 1984 to work on reopening it and trains started running again in 1986.
Mr Searle said the organisation originally had one-year renewable leases from the then North Cornwall District Council because there was "no idea whether we'd be successful or not".
The leases were later increased to five years and are now with Cornwall Council, which took over from the previous authority in 2009.
Mr Searle said: "As we improved and business increased and our spending increased, it became obvious that just a five-year lease was not enough.
"If you want to get grants, you won't get them with that short a lease."
He said he and other trust members were relieved the new lease was in place.
"I think the future is looking good," he said.