Bude beach substance was 'vegetable oil'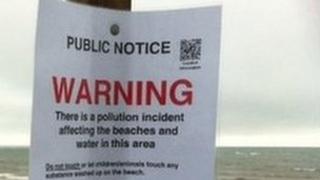 A substance washed up on beaches near Bude in Cornwall is a type of vegetable oil, the Environment Agency has said.
Tests show it is similar to the material found last month which closed a beach on the south coast at Looe.
Cornwall Council said that with blustery weather forecast over the next few days, it was possible further materials could be washed up.
It added it will be monitoring the north Cornwall beaches.
A beach at Hannafore, near Looe, was closed when a bright yellow "putty-like" substance was washed ashore.
Source unknown
A white substance found on beaches in west Cornwall, was discovered to be a "non-toxic, degraded, edible oil or fat" which had turned "rancid".
Cornwall Council said in a statement the results of laboratory analysis by the Environment Agency showed the material in Bude to be "an edible or vegetable oil, possibly palm oil".
"Fortunately it was not rancid like the palm oil that affected the south west Cornwall beaches last weekend," the council added.
The council said signs will remain in place for the foreseeable future and that it is liaising with the National Trust and St Gennys Parish Council, which owns the beach at Crackington Haven.
The Maritime and Coastguard Agency have indicated it is "highly unlikely" that the source of the pollutant will be found.