Cornwall Wildlife Trust hopes to buy two wildlife habitats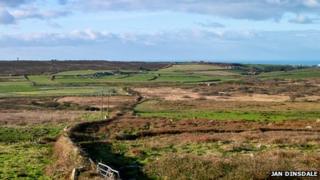 Two "nationally important sites" for nature in west Cornwall could be purchased by Cornwall Wildlife Trust.
The group has launched a public appeal to buy Bostraze Bog, near St Just, to restore it to a wildlife-rich habitat.
It also wants to buy Bartinney Downs near Sancreed to ensure it continues as a haven for animals such as the skylark, marsh fritillary butterfly and the merlin.
The trust needs to raise £20,000 to match Heritage Lottery Funding.
It described Bostraze Bog as "one of the most important wetland wildlife sites in west Penwith".
The organisation wants to buy 58 acres (23 hectares) of this site and restore it to a habitat teeming with rare species such as the round-leaved sundew, small red damselfly and the barn owl.
The trust hopes to buy 26 acres (10 hectares) of Bartinney Downs, next to the Caer Bran Nature Reserve.
Callum Deveney, Head of Nature Reserves at Cornwall Wildlife Trust said: "We must find this extra money to help to buy and create what I know will be fantastic nature reserves."
Parts of these sites were improved for agricultural use in the past, but have been reverting to more wildlife-friendly habitats through the support of agri-environmental funding schemes.
The land at Bostraze Bog and Bartinney Downs has no statutory designation to protect the habitats and species it supports.
Keith Hambly-Staite, chairman of the trust's marketing and fundraising committee said: "In these harsh economic times, it is a fantastic opportunity to secure a Heritage Lottery Fund award and we must make this happen."