Beaches suffering marine litter 'invasion', claims action group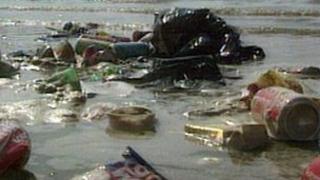 Environmental campaigners in Cornwall are calling on the county's youngsters to lead the way in keeping the local beaches clean.
Surfers against Sewage (SAS) said beaches were suffering from "an invasion of marine litter".
The organisation has launched a Seas For Life programme working with school children in the county.
Cornwall Council said it takes beaching cleaning seriously but is faced with a "diminishing budget".
Hugo Tagholm, the executive director at SAS, said: "Beaches are suffering from an invasion of marine litter.
"In the past 15 years it has doubled on our beaches.
"Children are key to this. It's really important they get the sustainable message early on and take it through their lives."
In the programme, youngsters from Cornwall's schools are taken to local beaches to help with cleaning.
Edwina Hannaford, Cornwall Council's portfolio holder for environment, said: "I think it is a priority our beaches are very important. We take beach cleaning very seriously. Our beaches provide an iconic image of Cornwall.
"But we are faced with a diminishing budget, so I welcome Surfer's Against Sewage initiative. We all have a responsibility to keep our beaches clean."