Doctor proposes 'frailty' units for two Cornish hospitals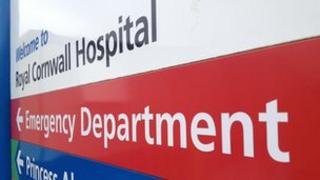 Special units for elderly people could be set up at Cornwall's two emergency departments in the next six months.
The lead consultant for Eldercare at the Royal Cornwall Hospitals Trust said more elderly people were turning up at Accident and Emergency.
Dr Neil Pollard said the so called frailty units would take pressure off the "overstretched system".
"This will hopefully stop re-admissions and allow them to get home safely and go on independently," he said.
Dr Pollard is pushing for special units in the Truro and Penzance hospitals to handle older vulnerable patients who come to A&E.
Fraser Underwood, a consultant nurse and lead for Eldercare in Cornwall, said: "The vision I have is that the frailty facility will have acute GPs working with their social care staff, mental health services would [also] be in there."
A similar scheme in Leicester saved about £700,000 in its first year.
In June health bosses admitted the A&E department at the Royal Cornwall Hospital in Truro was continuing to miss its targets for patient treatment times.
A four-hour target was set nationally for patients to be seen and discharged from A&E but the hospital has failed to achieve the 95% standard all year.
The hospital claimed the winter months and a "steady rise" in the over 75s attending the department, as reasons for being behind its targets.