Road funding in Cornwall 'insufficient to stop decline'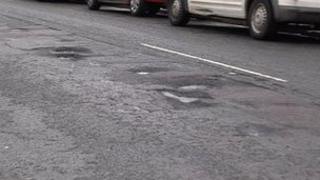 Current funding to repair Cornwall's roads is "insufficient" to stop the "decline of the road network", a council says.
Cornwall Council said reducing funding was "storing up the rural deprivation of the future".
The Lib Dem-Independent-led authority said it had a backlog of road repairs which would cost about £204m.
In March, the government said it had given UK councils more than £3bn to maintain roads.
Budget pressures
Cornwall Council maintains more than 4,500 miles (7,200km) of road and said it had allocated nearly £15m this year towards repairs after about 9,000 potholes were reported.
As well as the £14.8m, the authority said it was also contributing an additional £2.5m over the next two years to carry out more work.
However, it said a "substantial cut in local government funding" had put "significant pressure on our budget".
It added that floods and bad weather in 2012 had "accelerated the rate of damage to roads".
Bert Biscoe, cabinet member for transport, said cash pressure meant the authority was "moving towards being forced to manage a maintenance retreat from our unclassified rural road network".
He said: "We find many productive and value-adding businesses, and vibrant communities all lie at the end of minor rural roads.
"The impact of this both now and in the future will be pressure on community life and a loss of economic productivity.
"Starving us of funds now is storing up the rural deprivation of the future."
The government said it was up to local highway authorities "to determine how they prioritised funding".