Cuttlefish eggs donated to Newquay aquarium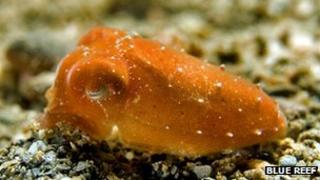 A cluster of cuttlefish eggs hauled up with a lobster pot off the Cornish coast have been donated to a local attraction.
The batch of eggs were donated by a local fishermen who found them attached to the lobster pot's rope.
The eggs, which are known as sea grapes due to their shape and colour, have been put on display at the Blue Reef aquarium in Newquay.
A spokesperson said it was rare to find eggs on the outside of a lobster pot.
Paul Strachan from the aquarium said: "Adult cuttlefish are often found inside lobster pots as they see the crustaceans caught inside as an easy meal.
"It would appear that on this occasion the female used the ropes attached to the pot to lay her eggs on.
"All the eggs appear to be in really good condition and we're looking forward to seeing the tiny cuttlefish begin to hatch out."
The babies, which measure just a few centimetres in length, come out of the egg able to hunt and feed effectively but also have a small amount of yolk left from the egg to keep them going for a couple of days.
A fringe of fins around their bodies allow the cuttlefish to hover motionless, but they can also move at high speed by expelling a jet of water from a funnel on the underside of their heads.
Although they are believed to be highly intelligent, cuttlefish have a comparatively short maximum lifespan of 18 months.
The females breed only once and die soon after laying their eggs.