Cornwall £5m young person mental health unit planned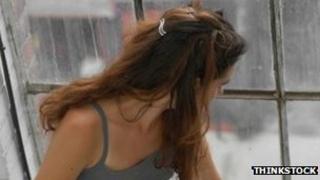 Plans for a specialist in-patient unit in Cornwall for young people with mental health problems have been put forward by county NHS bosses and a local charity.
Under-18s currently have to travel as far away as Birmingham or London for such facilities.
The NHS and charity the Invictus Trust have written a £5m business plan for health commissioners in Bristol.
The proposals are due to be debated next month, the NHS said.
'Age-appropriate care'
The Invictus Trust - set up by Sophia Cowburn after her twin brother, Ben, took his own life at 18 while in an adult mental health unit in Redruth in 2010 - said 13 to 25-year-olds in the region needed a special unit close to home.
She said: "The solution is that there's age-appropriate care.
"You get it in other areas of care, but it's still not available in Cornwall."
The NHS said it had found a possible site for a unit and it hoped health commissioners would approve the plan.
Phil Confue, chief executive of Cornwall Partnership NHS Trust, which provides mental health services in the county, said: "We know from local work that lots of people are going to Southampton, Birmingham or London.
"What we want to see is a way for local children and adolescents to get treatment in the county, not have to leave Cornwall, so they can keep contact with their friends and family.
"All of these things will help their recovery."
If approved, the new unit would be built behind the Redruth mental health unit, Longreach House.