Cornish badgers 'may be vaccinated against TB'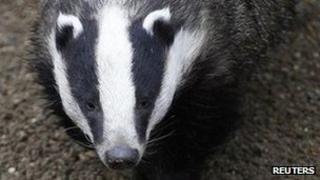 Plans have been put forward to vaccinate badgers in west Cornwall to prevent them catching tuberculosis and passing it on to cows, an MP says.
If approved, the £2m scheme would mean badgers being caught in traps and then vaccinated, St Ives Liberal Democrat Andrew George said.
A minister had signalled a willingness to back the idea, he added.
Badgers in Somerset and Gloucestershire are facing a cull, as some farmers blame them for spreading TB to cattle.
'Cheaper than policing'
More than 5,000 of the creatures are to be targeted in cull test areas of Gloucestershire and Somerset.
Government ministers and many farmers, with the backing of the National Farmers Union, said a cull was essential to stop the disease, which caused 37,000 cattle to be slaughtered last year.
Opponents, which include animal welfare groups and Queen guitarist Brian May, said there was no scientific evidence that a cull would make a difference to infection rates.
Mr George said a vaccination programme would have to be carried out until 2018 or 2019, with each dose costing about £650. He said it would cost "about £2m" in total.
The vaccine stops TB being passed from badger to badger, and scientists believed it could stop it being passed on to cattle, he said.
He added that, although it sounded like a lot of money, it would be "cheaper than policing costs" of opponents of the culls who might try and disrupt them.
Mr George said he had had "positive" talks with Minister for Agriculture and Food David Heath.
He said: "I think he can be persuaded to cooperate in a scheme such as this."
He added the National Trust was also "on board" with such a scheme locally and others "could be persuaded".
In terms of funding, Mr George said: "I don't think the government would put up the full costs, but other animal charities and bodies might be prepared to match fund what the government are prepared to stump up."