Cases review completed into former gynaecologist Rob Jones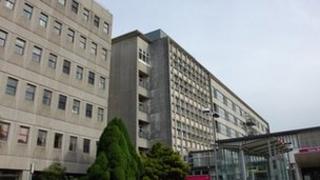 No more cases are to be reviewed in connection with a former surgeon in Cornwall, health managers say.
The Royal Cornwall Hospital's Trust said it reviewed case notes of 2,396 women seen by gynaecologist Rob Jones between April 2012 and October 2012.
Of those, concerns were raised about the treatment of 110 patients.
The trust said it would not examine any more cases after recommendations from external reviewers. Mr Jones said he offered his sympathy to patients
'Full co-operation'
Mr Jones, who had delivered Prime Minister David Cameron's youngest child by caesarean section in 2010, joined the Royal Cornwall Hospital in 1992.
He was suspended last May after a report from the Royal College of Obstetricians and Gynaecologists highlighted serious concerns.
It found his patients had more than five times the number of surgical complications during hysterectomy operations than would "usually be expected" in a consultant's career.
He was also the subject of eight medical reviews and repeated complaints.
Mr Jones voluntarily removed himself from the medical register last October.
Publishing a final independent case note review into his work, the trust said 52 patients suffered complications, and a further 58 were recalled for assessment.
Of those recalled, 38 were found to need further clinical treatment.
The review also revealed for the first time that two women treated by Mr Jones went on to die of gynaecological cancer and diagnosis had been delayed in both cases.
But it added that, in 95% of cases examined, reviews found no evidence of harm and no need to recall a patient.
The trust said it had "apologised unreservedly" to all the women affected.
Speaking through the Medical Defence Union (MDU), which has represented Mr Jones, the former surgeon said he acknowledged the outcome of the case note review.
The MDU added: "He wishes to reiterate his concern and sympathy for any patient who has suffered a surgical complication or any harm at the Royal Cornwall Hospital Trust under his care or otherwise.
"Mr Jones has fully co-operated with the review into his practice and is pleased that this has now been completed."