Whirlpool death man Jacob Cockle 'may have been filming'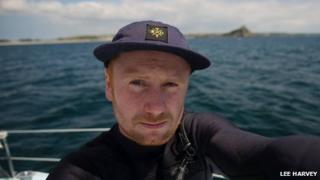 A 28-year-old man died while apparently filming a whirlpool in a Cornwall harbour notorious for the swirling currents, police have said.
Jacob Cockle 28, from Hayle, was spotted floating face down at Carnsew Pool in the Hayle Estuary, at about 21:00 BST on Tuesday.
Devon and Cornwall police confirmed camera equipment was found at the scene.
Mr Cockle's family warned others "not to do this sort of thing".
'Loving, caring, son'
They said in a statement: "Take heed of any warning signs present.
"My family and I are now dealing with the loss of a loving caring son and we would not wish this on anyone else."
Friends have paid tribute to the photographer and body boarder who was airlifted to the Royal Cornwall Hospital in Truro where he was pronounced dead.
Det Con Damian Ayling said police were warning people to stay away from whirlpools.
Weight of water
He said: "I knew nothing about this whirlpool issue, but since seeing footage online it's quite clear that getting into the water by a whirlpool is so dangerous.
"There are warnings in place where the incident happened. Our advice is stay away from whirlpools.
"You do not know the weight of the water, or how far it's going down."
Friends of Mr Cockle have paid tribute to him across social network websites.
Friend and photographer Mike Newman said he was known to the people of Penzance as a "very talented photographer and surfer".
Another friend, Lee Harvey, described Mr Cockle as "one of the nicest, friendliest waterman you could meet".
Whirlpools are ocean or river currents that move in a rotating direction, produced by rising and falling tides. Some exhibit a downward pull, called a vortex.
Carnsew Pool was constructed in 1830 to harness the power of tidal movements to flush sand from the harbour and is now part of a nature reserve.