Flybe pull-out 'devastating' news for Cornwall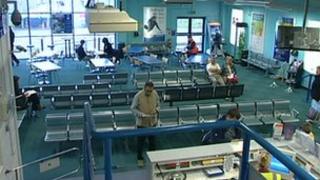 Flybe's decision to end its direct Newquay-to-Gatwick flights from March 2014 is "devastating news", says Cornwall's Chamber of Commerce.
Flybe has sold its slots at the London airport to Easyjet for £20m, as part of a cost-cutting programme.
Chamber chief executive Kim Conchie said it could be a "downward spiral" for the airport if a new carrier was not found.
It is unclear if Easyjet will continue the Newquay-to-Gatwick service.
Mr Conchie said notwithstanding advances in technology that enabled people to make contact remotely, "we still need to get people in and out of the county easily to do business".
He said his hope was that "another carrier will take on this route" and he was hopeful all concerned with the service would be trying "desperately" to find one.
'Downward spiral'
"If a new carrier can be found to seamlessly take on the route from when Flybe end, that's not too big a deal.
"If not and the only routes are the other far less appealing ones, it will continue to spiral downwards," he said.
Lib Dem St Austell and Newquay MP Stephen Gilbert said the link between London and Cornwall was "absolutely vital" for Cornwall's economy.
He said he was "disappointed" Flybe was not able to continue with the route but was hopeful that EasyJet's operation "will be of sufficient scale to ensure it continues."
EasyJet, which will launch flights between Newquay and London Southend in June, said it would review the routes, but there was no obligation on it to maintain them.
Mr Conchie said losing the routes would give business leaders the "completely wrong image of Cornwall as back to being cut off unless the route was kept open with another airline".
Air South West pulled out of Newquay's airport in September 2011. The airline had been responsible for 45% of the passengers at the time.
BMI Baby which ran regular services to and from Cornwall went out of business last year.