Devon and Cornwall RNLI crews given Gallantry awards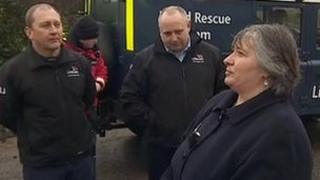 Members of the RNLI from Cornwall have been recognised for their life-saving work at an awards ceremony.
Three volunteers from the Port Isaac lifeboat crew were awarded Medals for Gallantry after rescuing two people in dangerous seas.
A flood rescue team was also recognised for rescuing a woman swept from her car near Umberleigh in Devon.
A spokesperson for the RNLI said the rescue missions showed the "courage and commitment" of those involved.
Damien Bolton, the helmsman from the Port Isaac crew, received a silver medal for gallantry.
Crew members Nicola-Jane Bradbury and Matthew Main were awarded bronze medals for gallantry for their part in the rescue of two men on to the lifeboat. One of the men did not survive.
'Challenging conditions'
At the same ceremony at the Barbican Centre in London, members of the RNLI's flood rescue team from Devon were awarded bronze medals for gallantry.
Paul Eastment, Chris Missen and Martin Blaker-Rowe negotiated fast-moving flood waters, debris and darkness to rescue a woman on 23 December.
Vanessa Glover was found clinging to a tree surrounded by flood waters. It was the first time that RNLI volunteers have been awarded medals for a flood rescue.
Mrs Glover said: "I will hold you in my heart forever. Thank you for saving my life."
RNLI operations director Michael Vlasto said: "All these rescues took place in extremely challenging conditions, and are a testament to the courage, commitment and skill of our volunteer crew and flood rescue team members."