Falmouth explosion fear from ammonium nitrate store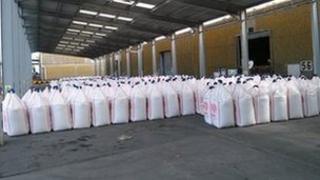 Residents fear thousands of tonnes of fertiliser stored in a Cornish town could cause a mass explosion.
Falmouth Docks holds up to 4,500 tonnes of ammonium nitrate - a fertiliser - which, if heated or ignited, can explode.
People in the town said they were concerned it was a "potential risk".
Dock operator A&P Falmouth and Cornwall Council, which issued a storage licence, acknowledged there were risks, but said they were managed.
'Wrong place'
The chemical - which is not combustible itself but is an oxidising agent which can assist other materials to burn - is currently kept in an open-sided storage area and has been stored at the docks since the 1980s.
Both the docks and the chemical have been involved in separate incidents in recent years.
More than 150 people were evacuated from their homes after a fire involving acetylene cylinders broke out at the docks in 2011.
Last month, in Texas in the United States, 15 people died after a fire at a fertiliser plant destabilised a tank of ammonium nitrate, which exploded.
Engineer Phillip Vann, who lives in Port Pendennis, close to the docks, said he did not think "risks should be taken with the public in general".
He said: "This product is located in the wrong place. There are risks in doing things, and it may be negligible, but it is still a risk."
He added he had concerns if an incident occurred when a visiting cruise ship carrying hundreds of passengers was alongside.
Rosalind Hamilton, who also lives in Port Pendennis, said: "If an explosion did occur it would be many hundreds of people who could be affected.
"Surely any risk involving human life is not worth taking."
David Edmondson, the council's strategic development team manager, said the Falmouth situation was different from Texas because Cornwall was dealing with smaller quantities and the chemical was not manufactured in the town.
He added: "We acknowledge there is a risk, and we do what we can to manage that risk."
A&P's port operations director, Mike Reynolds, said: "People should be safely and calmly sleeping in their beds at night because we manage the product to the point where any such incident won't occur."
He added the amount stored was being reduced, and improvements were being made to staff training and security.