Cornwall independents and Lib Dems 'to form coalition'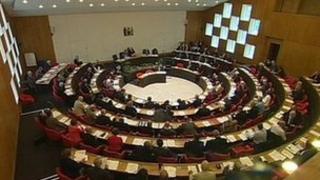 Independents and Liberal Democrats on Cornwall Council say they are to form a coalition because they are tired of waiting for a response from the Conservatives.
There are 36 Lib Dems and 36 independents out of 123 seats.
The Tories are the third largest group with 30.
Conservative leader Fiona Ferguson said she would have the collected views of her colleagues by the time a formal vote was due on Tuesday.
'Dithering response'
Talks about a coalition were first raised after council members were elected on 3 May and no group could gain overall control.
John Wood, one of the independents, said the coalition was being formed because of a lack of response from the Conservatives.
He said: "They haven't responded to the Liberal Democrat and independent offer to include them and to have cabinet positions.
"A decision had to be made not to include them in a political alliance."
He added the coalition would also feature cabinet positions for minor parties.
'Dithering response'
Liberal Democrat leader Jeremy Rowe said: "I think we would have understood if they said they wanted to go into opposition to provide proper scrutiny.
"That would have been an honest thing to say, rather than what we've had - a dithering response of not replying to phone calls and not giving any clear response."
Although Tory leader Ms Ferguson said she was still collecting the views of her colleagues, one aspect being considered was that a strong opposition might not be possible if the Tories joined a coalition.
She said: "If we joined, the only people that would be holding administration to account are 20 councillors, only four of whom have prior experience on Cornwall Council.
"The rest are all absolutely new to the council."
The previous administration had been Conservative-Independent led.
Others on the council include six Labour members, six from UKIP, four from Mebyon Kernow, two Labour and Co-operative Party members, two councillors declared as "unspecified", and one Green.