Western Greyhound bus services resume after depot fire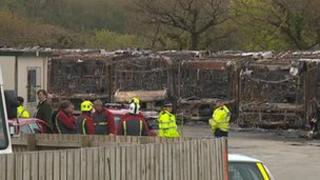 A bus firm which lost a third of its fleet in a fire has said most routes are now running "close to normal".
Western Greyhound lost 35 buses in the blaze at Summercourt, on Monday, which caused widespread disruption to public transport.
It said it had ordered replacement buses from across the country to return to a full service as soon as possible.
Arsonists are suspected of starting the fire at the depot which was tackled by more than 60 firefighters.
On the company's website it said "all routes are running fairly close to normal".
However, a number of exceptions have been listed.
It added it was using "every single bus available" to them and if there were problems there could be "short-term cancellations as no replacement buses are currently available as they usually are".
No-one was injured in the blaze and Devon and Cornwall Police wants anyone who may have seen "suspicious activity" in the area of the depot to contact them.