Disabled row councillor Collin Brewer: new 'remarks' investigated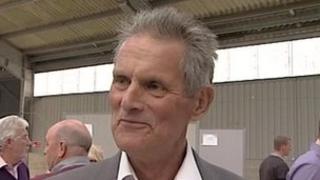 A councillor who resigned over his comments that disabled children should be "put down" is to be investigated over alleged new remarks.
Collin Brewer, who made the original remarks in 2011, was recently re-elected in Wadebridge, Cornwall.
But in an interview last week he apparently linked disabled children to farmers killing deformed lambs.
Cornwall Council said it would investigate to see if there had been a breach of its members' code of conduct.
'Good argument'
Mr Brewer's remarks were allegedly made during an interview with the Disability News Service (DNS).
In an article published last week on its website, DNS said Mr Brewer "repeatedly indicated that he believed there was a good argument for killing some disabled babies with high support needs, because of the cost of providing them with services".
Mr Brewer, however, told BBC News he valued all human life and his views had been taken out of context.
"I didn't intend to offend anyone and people will know that I really am a good man and I was just indicating an example of what's happened in the past," he said.
"I've always said I'm a Christian and I believe in the sanctity of all life."
Cornwall Council said it had received "numerous complaints" and in accordance with its ethical standards regime, it had been decided the matter merited a full investigation by a senior council lawyer.
A joint statement by the leaders of the council's main political parties said the recently published comments attributed to Mr Brewer were "completely unacceptable and contrary to the council's policy of supporting all people with disabilities.
No committee seats
"Such views have no place in local government. These remarks represent the personal views of Councillor Brewer, who does not speak for the council or the people of Cornwall."
The council said it did not have the power to sack or suspend a councillor, but added that Mr Brewer would not be allocated any seats on council committees.
Earlier this week Devon and Cornwall Police said Mr Brewer was being investigated after complaints about the DNS interview.
In 2011, Mr Brewer told a charity worker that "disabled children cost the council too much money and should be put down".
His comments became public knowledge in February when the authority's Standards Committee reported its findings into a complaint about the comment made by a disability charity.
Despite saying his comments were made to "stir up a debate", the 68-year-old resigned, but he stood for re-election on 2 May and won the Wadebridge East ward as an independent candidate with a majority of four votes.