Tall ships set for 2014 Falmouth return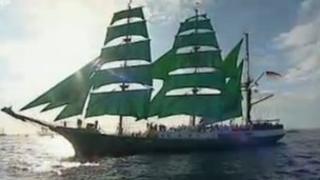 More than 40 tall ships will return to Falmouth next year as part of the Tall Ships Regatta.
The large square-rigged vessels will be berthed at Queen's Wharf in Falmouth Docks for three days at the end of August 2014.
The Regatta will see training vessels and square-rigged ships from around the world racing over three days.
The town last hosted the Tall Ships Regatta in 2008, which attracted more than 100,000 visitors.
The race will also provide sailing opportunities for up to 70 young people from the county to crew the ships.
Ships will pass between the twin castles of Pendennis and St Mawes in a parade of sail into Falmouth Bay to the start line.
They will then head eastwards towards the English Channel with the finish line off the Isle of Wight.
John Hick, chairman of Falmouth Tall Ships Association, said they were "delighted to be chosen to be part of this prestigious race".
"Falmouth's association with the sea and ships has been a part of Cornwall's heritage for centuries," he added.
Since the Tall Ships first visited Falmouth in 1966, the port has hosted several international races including the Cutty Sark Tall Ships Race in 1998.