Tory quits and makes Cornwall independents and Lib Dems equal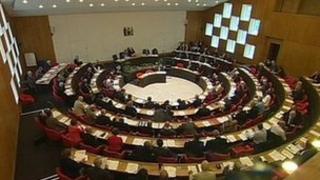 The numbers of independents and Liberal Democrats on Cornwall Council have become equal after a councillor left the Conservative group.
Ladock, St Clement and St Erme councillor Mike Eathorne-Gibbons has become an independent.
It means the Lib Dems and independents each have 36 out of 123 seats. The Tories remain are the third largest group with 30.
Negotiations are ongoing to form a joint ruling council group.
They are expected to continue for several days.
Mr Eathorne-Gibbons, a Conservative councillor for 30 years, said people's dissatisfaction with Conservative policies nationally helped him make his decision.
The previous administration had been Conservative-Independent led.
Others on the council include six Labour members, six from UKIP, four from Mebyon Kernow, two Labour and Co-operative Party members, two councillors declared as "unspecified", and one Green.