Looe landslip road to be 'closed until July'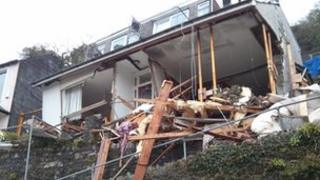 A road in a Cornish town which has been closed since a woman was killed by landslip will not reopen until July.
Cornwall Council said it was planning to stabilise the area of land affected by the landslip on the B3253 St Martin's Road in Looe in March.
Susan Norman, 68, died when Veronica Flats collapsed following heavy rain.
The council said work to stabilise the road using concrete piling could begin on 20 May and would take between eight and ten weeks to complete.
The plan is for the road to reopen "under traffic light control" before the start of the school holidays in July.
'Open for business'
The council said concerns over the "stability" of the road and an ongoing investigation by the Health and Safety Executive (HSE) meant that it has not been possible to reopen it so far.
Sandplace Road, which was also closed after the landslip, reopened in March.
Looe, in south east Cornwall, is a popular tourist resort and the council said its tourism arm, Visit Cornwall, had been working to promote tourist-related firms and stress the town was "open for business".
Paul Masters, the council's interim chief executive, said: "We appreciate that the ongoing closure of St Martin's Road is causing problems for many local residents and businesses and are committed to reopening the road as quickly as possible.
"Our engineers have been working to draw up a scheme which will enable us to partially reopen the road before the main summer season gets underway.
"We are now waiting for the affected residents, the police and the HSE to give us the formal go ahead to start the work."
The work, which is costing between £100,000 and £150,000, will involve installing concrete piles into the rock strata under the road.
Rock-anchors will also be used to provide extra stability, the whole area will then be capped with a concrete beam.