Western Greyhound bus depot fire 'may have been arson'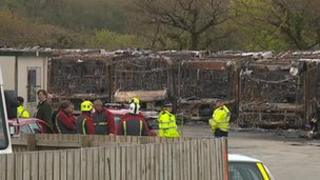 Arsonists are suspected of starting a fire at a bus depot in Cornwall which destroyed 35 vehicles, police said.
A third of bus company Western Greyhound's fleet was torched in Summercourt, near Newquay, at about 01:00 BST on Monday.
Among the vehicles destroyed were two new £100,000 coaches and four of Truro's six park-and-ride buses.
No-one was injured in the blaze but there has been widespread disruption to public transport in Cornwall.
Devon and Cornwall Police wants anyone who may have seen "suspicious activity" in the area of the depot to contact them.
Western Greyhound managing director Mark Howarth said more vehicles were to be brought in to restore services. However, he added it would take "a little while to get organised".
He said other local companies were also helping out, with First Devon and Cornwall planning to accept Western Greyhound's season tickets on its buses.