Disabled row councillor Collin Brewer investigated by police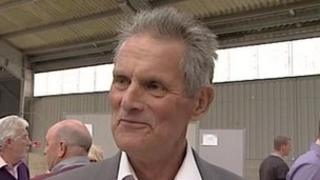 A Cornwall councillor who said disabled children should be "put down" is being investigated by police.
Collin Brewer resigned earlier this year after his comments. He apologised and was re-elected earlier this month to the county's unitary authority.
Devon and Cornwall Police said he was now being investigated after complaints about a recent interview with the Disability News Service website.
Mr Brewer has not been available for comment.
The 68-year-old made the "put down" comment to a charity worker in 2011, saying disabled children cost the authority too much money.
Mr Brewer resigned in February after the authority's Standards Committee reported its findings into a complaint about the comment made by a disability charity.
He said his comments were just to stir up a debate.
Mr Brewer then won the Wadebridge East ward as an independent candidate with 335 votes, a majority of four.
He said he stood because he was asked to by people in the ward.
The Disability News Service (DNS) describes itself as a news agency specialising in disability issues.
It claimed that in an article published last week Mr Brewer "repeatedly indicated that he believed there was a good argument for killing some disabled babies with high support needs, because of the cost of providing them with services".
Devon and Cornwall Police said: "This matter has been formally reported [and we] will now look into the comments made to establish whether any offence has been committed."
Staff from two national disability charities - Mencap and the Newlife Foundation for Disabled Children - said they were also planning to make a formal complaint to police.
Cornwall Council said its monitoring officer was considering whether there were grounds for investigating Mr Brewer's comments in accordance with the council's ethical standards regime.
Several attempts have been made by the BBC to contact Mr Brewer. He has not been available for comment.