'Incredibly aggressive' terrapin grabs diver in Looe estuary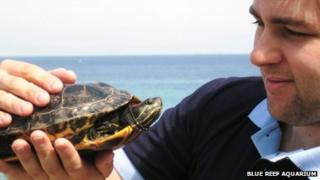 A diver found a "very aggressive" turtle native to America attached to his upper leg when he was coming out of a Cornish estuary, an aquarium says.
The man had been diving in the Looe estuary last week when he found the red-eared terrapin on his limb.
It was later offered a permanent home at Newquay's Blue Reef Aquarium.
The aquarium said the freshwater creature - thought to be a dumped unwanted pet - was "doing well".
Ninja Turtles obsession
Blue Reef curator Paul Strachan said the diver initially contacted the town's Clifton Villas veterinary surgery, which cared for it before it came to the aquarium.
He believed it had been dumped in the water a few days previously.
He said: "It is pretty uncommon for a terrapin to approach someone in the water and grab hold of them, but this one was very lucky he did.
"They are incredibly aggressive, and this little guy had become very aggressive as he had been mistreated.
"When I arrived to pick him up from the vets, he was trying to bite my fingers. The diver didn't realise it was attached to his upper leg.
"The terrapin had an infection from going from a warm tank to the cold but is now doing well. He is becoming quite a character."
The omnivorous creatures can live for more than 50 years, feeding on fish, insects and water plants.
Although native to north America, it is thought many were bought for children in Britain obsessed with the Teenage Mutant Ninja Turtles TV series in the 1980s and 90s.
Mr Strachan said people often bought the "cute little creatures", not realising they would grow.
He said: "Red-eared terrapins begin life as these incredibly miniature reptiles which are about the size of a box of matches.
"Within a few short years, however, they can reach 30cms (1ft) or more, and that's when people start abandoning them.
"Many of the country's waterways have become dumping grounds for terrapins.
"That is posing a potential threat to native species of wildlife, which simply can't cope with sharing their habitat with these aggressive invaders."