GP fears over lack of dementia care on Scilly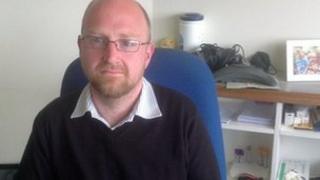 A doctor on the Isles of Scilly claims there is "not enough care" for people with dementia and "very little in the way of resources".
Dr John Garman, from St Mary's health centre, said people with dementia were reluctant to come forward for fear of having to go to the mainland.
More than 25% of the population on Scilly is over 65.
Dr Garman hopes new commissioning powers for GPs will enable more patients to be cared for at home.
According to the Cornwall Partnership Foundation Trust, more than 9,000 people in the county are currently living with dementia.
At present there are no permanent dementia specialists on the islands. There is no overnight care for patients living in their own home and only limited space in the only home for the elderly, Park House.
'Maintain independence'
Mary Dean, who cared for her 92-year-old husband Bill at home for two years, said dealing with a loved one with dementia was an "absolutely horrendous scenario".
Mrs Dean said: "Someone came over from the mainland, looked at him, ticked some boxes, said he's got dementia, and said he will only get worse and went away.
"The thought that he might be in care across the sea and having to get there and the expense, was absolutely awful."
Mr Garman said: "We have relatively little in the way of resources over here and there are traditionally people that haven't come forward to give a diagnosis because the net result, particularly when you have complex care needs, is that we can't provide it here.
"It's about putting the right care in at the right time, so when someone is relatively well and can maintain their independence you don't have to have carers in four times a day.
"It's about not just applying the same kind of logic to every single patient because everybody is individual," he said.
Kate Mitchell is from NHS Kernow, the new clinical commissioning group said: "We've got primary care practitioners based in GP surgeries who now will look at everyone with memory loss and dementia and will make sure they support the person and the carers all the way through till the end of their life.