Trelissick House auction 'to raise £1m'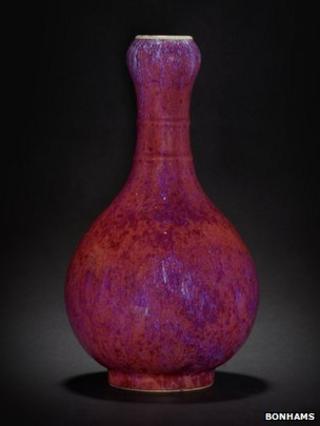 An auction of several items from a Cornish stately home is expected to raise more then £1m an auction house has confirmed.
Items from Trelissick House near Truro which will go under the hammer include ceramics, fine English and French furniture and paintings.
The sale will be held by Bonhams at Trelissick in July.
The Copeland family, who lived at the house for many years, said it was "time to pass them on for others to enjoy".
'Fine works'
One of the items for sale is a rare Chinese vase, estimated to sell for up to £100,000.
The vase is thought to have been acquired by Leonard Daneham Cunliffe, the former owner of Trelissick.
Colin Sheaf, head of Chinese art at Bonhams, said: "This vase would have been made in Jingdezhen, China's unique porcelain-producing city in Jiangxi Province."
Mr Cunliffe was the deputy governor of the Bank of England, co-founder of the merchant bank Cunliffe Brothers, and a major investor in Harrods.
When he died in 1937, the major part of his vast collection of bronzes, ceramics, furniture and paintings, was bequeathed to the Fitzwilliam Museum in Cambridge.
The Trelissick Estate was left to his stepdaughter, Ida Copeland.
In 1955 Trelissick House, Home Farm and its buildings were given by Mrs Copeland to the National Trust.
William Copeland, a grandson of Mrs Copeland, said: "We have been guardians of these fine works for a number of years and now that we are moving locally it is time to pass them on for others to enjoy."
The items will go under the hammer on 23 and 24 July.