Demo over re-election of Collin Brewer after disability comment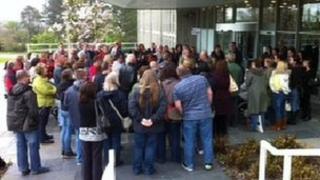 Campaigners have demonstrated in Cornwall following the re-election of a councillor who previously said disabled children "should be put down".
Collin Brewer resigned from Cornwall Council in February over the remarks he made.
A meeting had been scheduled in Truro earlier between leaders of disability groups and the councillor, but was postponed as Mr Brewer is unwell.
About 70 campaigners attended the demo at County Hall.
Although Mr Brewer was unable to attend, other councillors spoke to protesters.
Amid applause, disabled power-lifter and councillor Jade Farrington said she was "deeply ashamed to be sharing the council chamber with Collin Brewer".
'That is democracy'
"I would like to ask Collin Brewer when exactly he would have liked me to have been put down," she said.
Protester Pete Skea, 32, who has cerebral palsy and has just been elected to Bodmin Town Council, said one of the main reasons he had stood was because of Mr Brewer's comments.
Mr Skea said: "I think what he needs to do is engage with as many disabled groups and charities that he possibly can."
Independent councillor Bob Egerton told the protesters that Mr Brewer was "not disqualified from standing again and the people of Wadebridge East voted him in".
He added: "That is democracy. He is here like the rest of us because each of us got more votes than anybody else in the division."
Steve Paget, who chairs Disability Cornwall, said the "one positive" from the demonstration was that the leaders of the newly elected council had "listened to the views of parents of children with disabilities".
Mr Brewer, 68, won Cornwall Council's Wadebridge East last week as an independent candidate in the local elections.
He won the seat on the 123-seat unitary authority with 335 votes - a majority of four.
After winning, he said he had apologised for his comments and had stood again because he was asked to by people in the ward and others across the county.