Victory for Falmouth men's and ladies' gig teams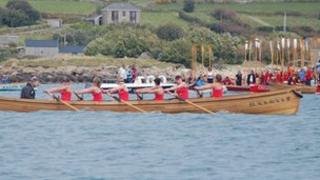 Falmouth has won the men's and ladies' titles in the 24th World Pilot Gig Championship on the Isles of Scilly.
Both teams rowed to victory in their gig Black Rock, one of four gigs belonging to the Falmouth club.
More than 130 teams have taken part in the races across the weekend, in the six-oared wooden boats.
The ladies' team took an early lead, while the men's team completed the race in under 10 minutes.
The Looe men's team came second in their gig Talisman. Roseland rowed over the finish line in third position in the Polvarth gig.
In the ladies' final, Mounts Bay in Cormoran came second with the Caradon A-team in Amazon coming in third.
'Rowing dynasty'
Jenny Shipley, part of the Falmouth ladies'
crew, said: "You've got to take your chances where you can and get a good start.
"It's always nice when you perform well, especially after a hard winter of training."
The finals take place between Nut Rock, a small rocky islet near Tresco, and St Mary's Quay, a distance of 1.16 nautical miles.
BBC Radio Cornwall's Jack Murley, who watched the ladies' race, said: "Falmouth looked majestic.
"They never looked beaten. They are a gig-rowing dynasty."
The annual event draws crews from around the world.
The first championship took place on Scilly in 1989 when just 19 boats competed.