Imerys china clay in Cornwall announces job losses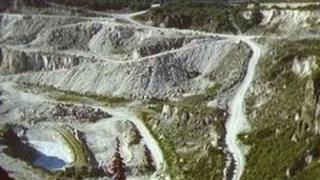 More than 60 jobs are to be axed at a china clay business, with compulsory redundancies not ruled out.
The French company, Imerys, which operates in Cornwall and Devon, said the cuts were a result of the "difficult market situation" and increased costs.
Some jobs will be relocated from the company's laboratories in St Austell to Heathfield in Devon.
The company is now consulting with trade unions and affected employees.
'Very sad news'
A spokesman said: "Imerys very much regrets that it is necessary to take these actions and recognises that this is a difficult time for all its employees.
"Every effort will be made to achieve the proposed reductions through voluntary redundancy but compulsory redundancies may also be necessary."
Ben Rhodes, chief executive of the Devon and Cornwall Business Council, said: "This is very sad news for the families and communities affected by the job losses.
"I don't know whether there will be lots of jobs locally for these kind of skilled workers."
Mr Rhodes said the Cornwall Area Action Force, headed by Job Centre Plus, would be working with people affected to help them find new employment.
The china clay industry in Cornwall was started nearly 300 years ago by English China Clays, which was taken over by Imerys in 1999.
China clay - also known as kaolin - is used in the manufacture of sanitary ware, paper and paints.