Election 2013: Isles of Scilly in for fascinating poll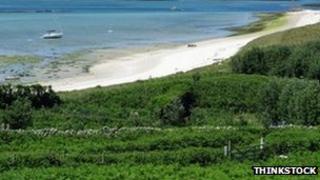 The election for the Council of the Isles of Scilly on 2 May is the most fascinating in the islands' history.
A year of political turmoil is ending on the main island of St Mary's, with 18 candidates battling it out for 13 seats.
And, for the first time, two of the candidates are tied to a political party, hoping to end the tradition of every councillor being an independent.
Another seven seats will be contested between the other populated islands - or off-islands, as they are known.
Authority 'overstepped'?
It has not been an easy 12 months for the council. The suspension of the head teacher of the Five Islands School - the only school on Scilly - brought accusations of the council overstepping its authority.
The accusations were strongly denied but inflamed passions among islanders - so much so that a number of new candidates have come forward with a declared aim of "ousting the old guard".
The early retirement of the council's long-serving chief executive, Philip Hygate, means an immediate and vital task for the new council will be to find his replacement.
The interim chief, former Plymouth City Council head Barry Keel, has been brought in for six months to see how the council should be changed.
Is it overloaded with personnel, as some critics claim? Is it too secretive, as others believe? Does it handle its budget effectively? What about the islands' airport, which has nearly run out of funds?
These are all questions which are being asked as candidates tout for votes among a population of about 2,200, which is the same size as many parishes in neighbouring Cornwall.
The Council of the Isles of Scilly is also a unitary authority which looks after roads, waste disposal, planning, education, licensing, St Mary's Airport and much more.
The list of things it is in charge of is long - and expensive - and results in an annual budget of about £6.8m.
There are some who argue this is too much for the council to handle and there should be more links with Cornwall Council.
But islanders are fiercely independent and that idea is not accepted by the majority.
Vital decisions
And with the governors of the school under pressure from Whitehall to convert to academy status, almost half the council's budget could disappear.
On the off-islands, there will only be an actual vote on St Martin's. The candidates on St Agnes, Tresco and Bryher have all been elected unopposed.
Still, the count at on St Mary's should make up for any drama lost elsewhere.
One thing is sure: whoever is elected faces a series of vital decisions which will decide the future of the council for some time to come.
And the political party which is fielding candidates on St Mary's - the first time any party has done that?
The Greens.