Lead laid on St Stythians' church roof stolen hours later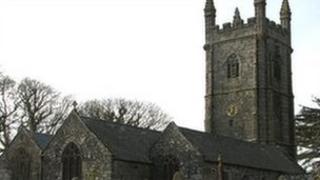 A Cornish village church has had lead stolen from its tower just hours after it had been installed.
The theft at St Stythians, in Stithians, near Falmouth, happened on the evening of 11 April.
Police said thieves also stole lead from the church's roof in July 2007, September 2008, October and December 2012.
Villagers raised thousands of pounds to repair the church tower after it was damaged by water.
Churchwarden Mollie Pascoe said the latest theft was "soul destroying".
Villagers had "worked their socks off" to get the roof repaired.
'Mindless menace'
"It makes me feel pretty sick that people can do this sort of thing," she said.
"They've obviously got no feelings for anybody or the church, it's awful.
"I would just love not to put lead on any more because it's just an invitation for it to be stolen again."
Lead is used on church roofs because it is malleable and resistant to corrosion.
It can fetch high prices when sold as scrap which makes it attractive to thieves.
According to the Diocese of Truro, stolen lead cost Cornish churches £70,000 in 2011 but the number of thefts dropped in 2012.
A spokesman said: "The mindless menace of lead theft continues to be a constant concern for the congregations who are custodians of the rich heritage of church buildings across Cornwall.
"It is not just the cost of replacing the stolen lead, but also the consequent weather damage to precious interior fabric and irreplaceable items that cripples small community churches, which are already struggling to make ends meet."
The original St Stythians church was built in the 6th Century AD, with the current building dating from the 14th Century.