Teacher Amanda Whitfield who force-fed custard is banned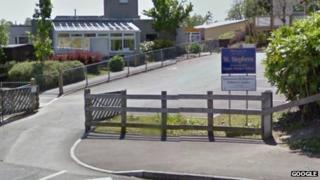 A teacher who force-fed custard to a special needs child has been banned following a disciplinary hearing.
Amanda Whitfield is no longer allowed to teach due to her actions against children at St Stephen's Primary School in Launceston.
The Teaching Agency hearing also found the Cornish teacher slapped another child and restrained one with a belt.
Mrs Whitfield could have the opportunity to have the banning order reviewed after two years.
Pinched girl's nose
The disciplinary panel considered a total of nine counts of misconduct relating to Mrs Whitfield's treatment of children at the school and found five of the allegations "proved".
These included force-feeding custard to a seven-year-old boy, slapping a seven-year-old boy across the face, pinching a girl's nose to make her open her mouth and restraining a pupil to a chair with a belt.
Referring to the seven-year-old boy who was forced to eat custard when he was crying and gagging, the Teaching Agency said Mrs Whitfield's actions were "plainly inappropriate".
All the incidents took place between 2006 and 2008, but the disciplinary hearing did not take place until last month and Education Secretary Michael Gove's decision to ban Mrs Whitfield has only recently been made public.
Devon and Cornwall Police told BBC News the allegations made against Mrs Whitfield were investigated in 2008.
It said a file was submitted to the Crown Prosecution Service, but no further action was taken "due to insufficient evidence".
No-one from St Stephen's - which has recently been rated as "outstanding" by school inspectors Ofsted - was available to comment.
'Pupils in jeopardy'
A statement issued by Cornwall Council said Mrs Whitfield left the school in 2009 following an investigation and the matter was subsequently referred to the Teaching Agency.
A spokesperson for the disability charity Scope said: "This is a concerning situation and parents will be alarmed. There is no place for this type of behaviour in the classroom."
Banning Mrs Whitfield from teaching at any school or college in England for at least two years, Mr Gove said her actions "put the wellbeing of young and vulnerable pupils in jeopardy".
The education secretary supported the disciplinary panel's judgement that there was "a real risk" Mrs Whitfield's behaviour could be repeated "given her apparent inability to learn from her experience".
However, as no element of malice or intent to punish the children was found, Mr Gove said Mrs Whitfield should have the opportunity to have the banning order reviewed after two years.
Mrs Whitfield, who was not at the disciplinary hearing, has not been available to comment.