Imerys-Goonvean china clay merger in competition investigation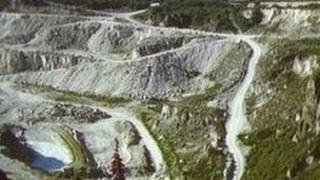 The merger of two china clay businesses in Cornwall in 2012 has been referred to the Competition Commission.
Imerys Minerals acquired Goonvean Aggregates in November, taking 140 Goonvean staff.
China clay - also known as kaolin - is used in the manufacture of sanitary ware, paper and paints.
The Office of Fair Trading (OFT) said the merger created a "near-monopoly" in the supply of kaolin.
'Lessening of competition'
It also reduced the number of companies supplying kaolin for specialty applications in the UK from three to two, an OFT statement added.
As both Imerys and Goonvean had been active in the extraction, processing and supply of kaolin products from deposits and facilities in Cornwall before the merger, the OFT concluded there was a realistic prospect the merger could result in a "substantial lessening of competition".
It had therefore referred the merger for further investigation by the Competition Commission.
The china clay industry in Cornwall was started about 300 years ago by English China Clays, but in 1999 the company was taken over by the French mineral giant Imerys £756m.