Cornish Peer calls for Duchy of Cornwall overhaul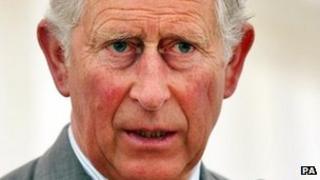 The Duchy of Cornwall should be radically overhauled, according to a Cornish Labour peer.
Lord Berkeley, who lives in Polruan, said he wanted to see all money generated by the estate go towards Cornish people and not the heir to the throne.
The Duchy, one of the UK's largest private estates, provides an income to Prince Charles.
The Duchy of Cornwall has declined to comment.
It owns more than 50,000 hectares of land, and large stretches of coastline around parts of Britain.
According to its website, the Duchy owns 2% of Cornwall, as well as the freehold on most of the land on the Isles of Scilly.
It has land and estates in 23 counties, including: Cornwall, Devon, Dorset, Somerset, Wiltshire and Gloucestershire.
Under Lord Berkeley's private members' bill, all the income that the Duke of Cornwall would normally receive from the Duchy would go into a new public trust, for people living in Cornwall and on the Isles of Scilly.
He said: "It's been published so I want people to debate it. There will be great support and great opposition."
Lord Berkeley said he was also writing to Prince Charles to ask for his thoughts on the issue.
In 2011 the peer sponsored a private members' bill on marine navigation but was subsequently told it required the consent of the Prince of Wales because the legislation affected the Duchy of Cornwall.
In November 2011 the Duchy of Cornwall was ordered to disclose environmental data from an oyster farm.
The decision by an information tribunal redefined the Duchy, a 700-year-old private institution, as a public body.
The ruling came after a legal battle against the farm near Falmouth.
The Duchy of Cornwall was contacted by BBC News but declined to be interviewed on Lord Berkeley's bill and said it would not be issuing a statement