Artist Graham Ovenden's indecency case jury retires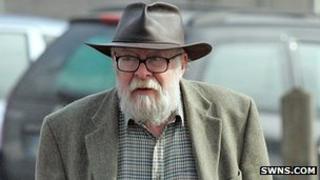 Members of the jury in the case of an acclaimed artist accused of being a paedophile have retired to consider their verdicts.
Graham Ovenden, is charged with nine counts of indecency dating back around 40 years.
The incidents, involving young girls, are said to have taken place in London and Cornwall.
The artist, who has had work exhibited in galleries across the globe, has denied all charges.
During the trial at Truro Crown Court, the jury was shown examples of the 70-year-old artist's work, much of it involving children.
Mr Ovenden had been described in court by prosecutor Ramsay Quaife as "a paedophile", who abused children under the ruse of producing their portraits.
The court heard that the charges relate to four claimants, who contacted police long after the abuse is alleged to have taken place, and only when they realised exactly what had happened to them as girls.
Mr Ovenden denied the abuse ever happened. He told the court in Cornwall he had taken pictures of children including those in various states of undress but said they were not indecent.
He accused the police of "falsifying" images recovered from his home computer.
Mr Ovenden, of Barley Splatt near Bodmin Moor in Cornwall, denies having a sexual interest in children.
Before sending the jury out, Judge Graham Cottle told them to consider every aspect of the case, including the complainants, who the defence team said may have spoken about their testimonies with each other before appearing in the witness box.
The judge said: "Are the complainants independent of each other? Have they come up with similar but false complaints?
"Have they been affected by someone to make similar but false claims? If you're sure there's no realistic possibility they put their heads together, the evidence of each is capable of supporting the evidence of the other."
"The question is - would right-minded people regard such photographs as indecent?"