New Bishop of St Germans announced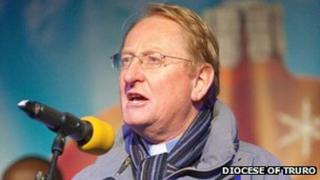 The new Bishop of St Germans in Cornwall has been named as the Reverend Christopher Goldsmith.
Mr Goldsmith, who has been a vicar in Essex for the last 12 years, will be installed as a Bishop by Archbishop Justin Welby, in May.
He will work alongside the Bishop of Truro, the Right Reverend Tim Thornton, who said he was "delighted" at the appointment.
Mr Goldsmith said he was "humbled and excited" to be coming to Cornwall.
He takes over from Right Reverend Roy Screech, who retired in December 2011 after 12 years in the post.
Cathedral service
Mr Goldsmith said: ""I'm humbled and excited to be joining a diocese with such deep spiritual roots, first formed by pioneering Celtic saints inspired by their own Christian faith.
"They have left their mark all over the landscape in place names, churches and traditions."
Since 2004, Mr Goldsmith was the vicar at Christ Church Warley and Saint Mary the Virgin Great Warley in the Diocese of Chelmsford in Essex.
He said: "I have always had a heart for other clergy and lay ministers and I will do all I can to encourage, support and challenge my brothers and sisters."
Mr Goldsmith will be installed as a Bishop by Archbishop Justin Welby at a service in Southwark Cathedral at 11am on 14 May.
There will be a service of welcome for him in Truro Cathedral on 19 May.