Cornwall Council Cabinet approves BT services venture plan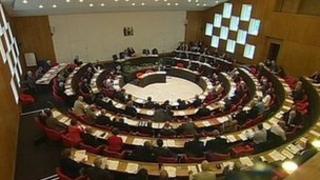 A project to privatise a number of council services in Cornwall has been awarded to British Telecom (BT).
The authority has been pursuing a so-called BT-Lite option after members threw out a wider joint venture proposal before Christmas.
In February the Royal Cornwall Hospital Trust (RCHT) pulled out of the plans.
In October the leader of Cornwall Council, Alec Robertson, a supporter of the wider option, was removed after a vote of no confidence.
In December the full council rejected a full deal with BT to privatise a number of key council services.
It gave the green light to a slimmed-down version, with so-called "customer-facing" areas - such as libraries and one stop shops - staying within the council system.
The phone company offers consulting and IT services to councils and businesses in the UK.
BT will be paid to centralise and run IT services for the council and some NHS organisations in Cornwall.
Although it was approved a few weeks ago, BT still had to submit a formal tender for the contract.
The RCHT said it would "pursue alternative options for developing our IT and health records services to meet future staff and patient needs".